Purchase Tickets

Reservations are recommended for all performances. Walk-ins are welcome but will be placed on a waiting list for sold out performances. Whether a season ticket holder or not, it is always advisable to make reservations early to avoid being disappointed.
Join us this 2021-22 season at a larger venue
There are five shows -- four shows in The Belfry's upcoming regular season and one Apprentice Players summer youth production -- all at larger venues, including Noblesville First United Methodist Church and at The Auditorium at The Annex at Ivy Tech in Noblesville.
Ample Social Distancing in 800-person venue
We are comfortably seating only 125 patrons per performance
Individual Ticket Prices
Plays:
$17 adults
$14, ages 65 and older
$14, ages 12 and younger


Musicals:
$20 adults
$16, ages 65 and older
$16, ages 12 and younger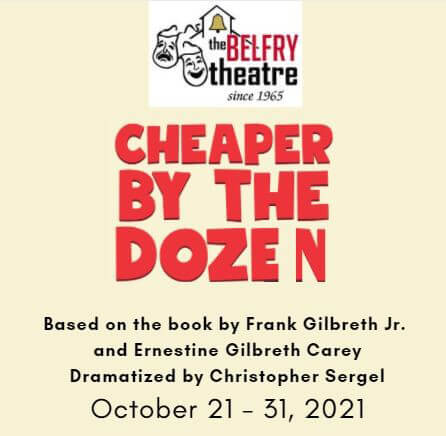 "Cheaper by the Dozen," a comedy, directed by Carla Crandall of Noblesville, will be Oct. 21-31, at Noblesville First United Methodist Church. Based on a true story, the play tells the account of the Gilbreth family whose inventor father, known for bringing better efficiency to factories, keeps his family of 12 children running just as efficiently. This play is told from the point of view of two of his children reflecting on the last few months before the death of their father, who was preparing the family for his imminent departure (but most of his children were unaware of the fact). The play is an extremely funny, heart-warming, and family-friendly tale. Auditions will be 7 p.m. to 9:30 p.m. Aug. 22 and 23 at The Belfry Theatre, 10690 Greenfield Ave., Noblesville. Cast of 16. Play adapted by Christopher Sergel. From the book by Frank B. Gilbreth Jr. and Ernestine Gilbreth Carey.
The Belfry Theatre is taking reservations for "Cheaper by the Dozen," first show of the 57th season for 2021-22.
FOR PHONE RESERVATIONS CALL 317-773-1085
Unpaid reservations will be released 10 minutes before show time.


---


Payment & Policies
Payment at the Door
Payment at the door only for standbys.
Cash or check preferred
Online Ticketing
The online ticketing site will securely process your credit card info for these transactions. All online sales are final. Refunds will NOT be provided if you fail to attend. The Belfry will do its best to coordinate online and phone reservations.
Event Seating
Doors open 45 minutes prior to curtain.
Festival seating (no reserved seats).
No seating after curtain.
Reservations not claimed 10 minutes prior to curtain will be released to standbys.
Handicapped Accommodations
The Belfry will make every effort to accommodate individuals with disabilities. Please indicate when making reservations how many individuals and type of disability. If making reservations online, please be sure to check the appropriate checkbox and enter a comment in the available textbox.
Season Ticket Holders
Membership has its advantages.
Priority given to season ticket holders for sold out performances if reservation made one week prior to opening night performance.
Priority given to season ticket holders for performances within 11 seats of being sold out.
Season ticket holders on waiting list receive priority over non-season ticket holder.
Groups Of Ten Or More
Please contact the Belfry for discount pricing on groups of 10 or more.
Payment must be received at least one week prior to performance.
If reservation made by phone, mail payment to Belfry Theatre P.O. Box 956 Noblesville, IN 46061.