The Belfry's Scholarship Program

2024 Belfry Theatre Scholarship Application
Each year, in accordance with our mission to create interest and participation in community theatre, the Belfry provides a scholarship to a graduating high school senior from a Hamilton County who is planning to major in theatre and/or the performing arts in the fall of 2023. Funds for the scholarship are derived from concession sales from the performances of the past season.
The 2023 Belfry Theatre Scholarship was $1000.
More information to come on the 2024 Scholarship
The Scholarship Committee's Selection Criteria Includes
√ Senior in a Hamilton County Indiana
√ Scholastic Achievement
√ Pursuing a course of study in the performing arts
√ Participation in the theatre and/or performing arts while in high school
√ Character and Leadership Achievements
√ Motivation and goals

2023 Scholarship Recipient

Gracie Philpot
2023 Belfry Scholarship winner Gracie Philpot is an exceptionally talented and honors graduate of Fishers High School.
Gracie is a natural born leader. She has served as a choreographer and assistant for many dance groups and classes both in school and in community theatrical productions, including those presented at the Belfry Theater and Civic Theater's Young Artist Program.
Throughout her high school years, she has received many honors and awards. In 2023, she was named Grand Champion in the Best of the Midwest Solo Competition.
Not only is Gracie a talented singer, dancer, and choreographer, she is active in the leadership at her church, where she teaches youth about the Catholic faith.
Gracie will be attending Xavier University in Cincinnati, Ohio, where she plans to major in Musical Theater.
2022 Scholarship Recipient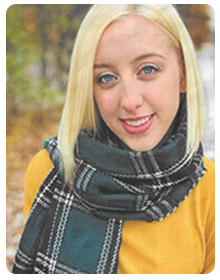 Kylee Booher
Kylee, an outstanding graduate of Fishers High School, plans to pursue a degree in musical theatre at Ball State University.
Throughout her four years at Fishers High School, she has performed as well as worked as a student director and assistant choreographer in numerous productions. Kylee has strong leadership skills, and is admired and respected by her peers and faculty alike. She has been selected as the Outstanding Performer in three separate show choir competitions.
Kylee's passion for musical theatre started in 4th grade when she appeared in a Belfry Production of "Sleeping Beauty" followed by appearances in additional summer student productions and regular season shows. She has also worked with additional community theatres including Civic Theatre, Stone Soup, and Bob Direx.
She has received awards as Outstanding in both Drama and Choir, and served as Junior Class Officer and President of Drama Club.
2021 Scholarship Recipient

Emma Rose "Rosie" Allenson
After I graduate from The Academy, I hope to be accepted into The Academy's Company, an auditioned group of third-year students that perform several shows for Industry members throughout the academic year. Following this, I am planning to pursue a second Associate's degree in Technical Theatre to ensure that I familiarize myself with all aspects of this vast art form. While I am working towards this second degree, I hope to be signed with a Manager or Agent that can represent me in the field. From there, I will audition for every single theatrical opportunity that comes my way until I succeed, stopping at nothing to be involved in the professional theatre world whether it be on stage, in the wings, or on screen. My ultimate goal is to write, direct, produce, and act in a series of political plays that I hope will inspire widespread political and societal change.
2020 Scholarship Recipient

Samantha Lewis
Samantha Lewis is an artistically, talented, high achieving Westfield High School senior graduating with academic honors. She is responsible, energetic, driven, bright and kind; a leader by example who lifts others up and treats her peers with respect.
Throughout her studies at Westfield, she was an integral leader in the choir and theatre programs. She received ISSMA gold awards in solo and ensemble voice and piano performance.
Of her many activities she served as Publicist/Historian and President of the WHS Thespian Troup 1002; Copy Editor of the Yearbook staff; Captain of the Comedy Sportz Team, and a member of the Spanish Honors Society.
She has appeared in productions throughout the Indianapolis and surrounding area including: Footlite Musicals, The Westfield Playhouse, and St Luke's Methodist Church. Out of all the actresses at the Indy Fringe High School competition; Samantha was awarded Best Supporting Actress. In her senior year she inspired her audiences performing the leading role in "Les Misérables" with passion and expression.
She will be attending Ball State University as a Theatre Major.
2019 Scholarship Recipient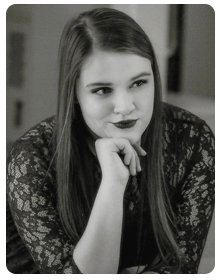 MaryClare Burch
MaryClare is an outstanding Noblesville High School graduate who has served her school and community well. She was president of her high school Thespian Troupe and was given the honor of State Thespian Officer for the Thespian Society. Her plans include pursuing a degree in Music Education from Butler University.
MaryClare's love of music theatre and performance bloomed at the age of six when she appeared in a youth production of "School House Rock". She sharpened her natural talent as an actress and singer/dancer through hard work, private training and her high school theatre arts classes. She was a three-year member of Noblesville High School's top state-awarded show choir. In the Indiana State School Music Association vocal solo competition MaryClare won three first place gold awards.
In both middle school and high school productions MaryClare appeared in leading roles and was a featured singer/dancer. In addition, throughout her school years she appeared in ten community theatre productions.
During her last three years of high school MaryClare was a mentor for the Noblesville Police Department's DARE program. She spoke with fifth grade students on how to avoid temptations and pressures that young people have to face growing up. She also volunteered as an actress for a Noblesville public service video on drunk driving. Her portrayal of one of the victims in the car was so real that some people thought it was a real event.
2018 Scholarship Recipients

Lauryn Tooley
Lauryn a talented, high achieving 2018 graduate of Noblesville High School will be furthering her studies in music education at Ball State University.
Her passion for music at a young age drew Lauryn to the piano which she studied privately for 10 years. In high school she has appeared in numerous musical and drama productions. She has been a valued member of Noblesville's top state- awarded show choir. In addition, she was recognized for her extraordinary ability and dedication as a teaching assistant in the Noblesville East Middle School choral department.
Lauryn has been a consistent honor roll student throughout middle and high school. She is a member of the International Thespian Society, the NHS Drama Club, and played Travel Soccer from 2008 to 2016 serving as team captain from 2014 to 2015.

Sophie Miller
Sophie, a 2018 graduate of Carmel High School, is an excellent musician and an outstanding dancer and performer.
As a young child Sophie loved expressing herself through painting, drawing and playing the piano. In fifth grade she participated in a school production of "Annie" and developed a passion to perform in music theatre. Since then she has appeared in over a dozen school, church and Christian Youth Theatre productions including Jane in "Tarzan", Celisse in "Godspell", and Scout in "To Kill A Mockingbird". In 2016 and 2017 she appeared in and served as a CYT summer camp vocal counselor.
During her junior and senior years Sophie was a proud member of the championship Ambassadors Mixed Show Choir. She won a first-place award in the Indiana State School Music Association Vocal Solo Competition.
She is a member of the National Honor Society. In addition, she has served on the Leadership Board of the Rising Stars Theatre Club and is an Honor Thespian in the International Thespian Society. In the summers of 2015, 2016 and 2017 she was an English teacher to young children in Haiti.
Sophie plans to continue her studies at Millikin University in Decatur, Illinois and earn a Bachelor of Fine Arts degree in Musical Theatre.

2017 Scholarship Recipient

Maddie Hayward
Maddie is an 18 year-old graduating with academic honors from Noblesville High School.
She served as vice-president of the International Thespians Society and President of the National Honor Society. In 2016 she received the STO All-Star award in regional Thespian competition.
Throughout her middle and high school years she played leading roles in school musicals and theatrical productions in addition to church and community theatre performances.
An accomplished singer, Maddie was a three year member of the Noblesville High School Varsity Show Choir preceded by a year in Sensations – the NHS Junior Varsity Show Choir. She was also active on the Speech Team and in Drama Club.
In preparation for a career in music Maddie studied piano and voice. As a junior she served as an elementary school choir assistant followed by cadet teaching the choir at Noblesville East Middle School her senior year.
She has been accepted and is excited to be entering Indiana Wesleyan University in 2017.

2016 Scholarship Recipient

Haley Patricia Glickman
Haley is an 18-year-old graduating with academic honors from Carmel High School. Theatre has been her passion since she was a young child. She is an International Honor Thespian.
Through all four of her Carmel High School years she has participated in theater classes, acted in 11 productions, teched two productions and directed a one act play. In addition she has performed in Footlite Musicals and Civic Theatre productions. Elected by her peers, she has served this year as President of Carmel's Rising Stars where she has been responsible for fundraising campaigns and celebrations for the group. Her theatre instructor indicates she has a wide range of talent, is creative, intelligent, a leader and a good problem solver.
Haley has been a member of the Ambassador Show Choir for two years. In addition she has participated in community service as an active Girl Scout since she was in kindergarten. In the words of her troop leader, "whether she is balancing theatre or show choir, both strenuous, her discipline allows her to find time to perform well academically as well as in her activities."
Last summer she received a scholarship from the American Musical and Dramatic Academy to take a summer intensive acting course in New York City.
As of early April 2016 she had been accepted into Marymount Manhattan College for acting and is waitlisted at The Juilliard School in New York City.

2015 Scholarship Recipients
This season the committee found that two seniors were equally deserving and as such, both will receive a scholarship.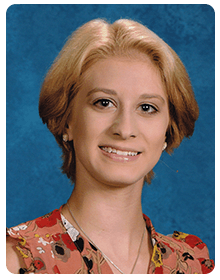 Kaitlyn Hamke
Kaitlyn is a graduate of Hamilton Southeastern. She plans to attend Ball State University to pursue a degree in theatre arts with a minor in legal studies. She was declared a Speech Team state finalist as a result of her talent in character development. Kaitlyn's passion for the performing arts was expressed by her heavy involvement in Thespians and the countless hours spent in Drama Club both as an actress and in production support. She served as student director for three of Hamilton Southeastern's theatrical productions.
Lily Schwab
Lily is a graduate of Noblesville High School. She plans to further her studies at Ball State University with a major in theatre and music. Lily is an accomplished singer and actress having held leading roles in three high school musicals as well as appearances in eight community theatre productions. She has received numerous awards as a vocalist in state solo and Show Choir competitions in addition to representing Noblesville High School for two years in National Speech & Debate Association competitions.

Prior Belfry Theatre Scholarship Winners
| | | |
| --- | --- | --- |
| Year | Student | School |
| 2023 | Gracie Philpot | Fishers |
| 2022 | Kylee Booher | Fishers |
| 2021 | Emma Rose "Rosie" Allenson | Noblesville |
| 2020 | Samantha Lewis | Westfield |
| 2019 | MaryClare Burch | Noblesville |
| 2018 | Lauryn Tooley | Noblesville |
| 2018 | Sophie Miller | Carmel |
| 2017 | Maddie Hayward | Noblesville |
| 2016 | Haley Glickman | Carmel |
| 2015 | Lily Schwab | Noblesville |
| 2015 | Kaitlyn Hamke | Hamilton Southeastern |
| 2014 | Corin James Fritz | |
| 2013 | Anna Clare Shinness | |
| 2012 | Molly Grooms | Noblesville |
| 2011 | John McClean | Guerin |
| 2010 | Lauren Bower | |
| 2009 | Alexander D. Smith | Noblesville |
| 2008 | Sarah Buck | Noblesville |
| 2007 | Meg Herrick | |
| 2006 | Erika Hanes | |
| 2005 | Megan Herrick | Noblesville |
| 2004 | Lindsay Petersen | Carmel |
| 2003 | Ryan Stultz | Noblesville |
| 2002 | Sean Davis | Carmel |
| 2001 | Leigh Ann Forester | Noblesville |
| 2000 | Zachary Frank | Westfield |
| 1999 | Jessica Hendicks | Noblesville |
| 1998 | Brad Braun | Noblesville |
| 1997 | Taylor Giacoma | Noblesville |
| 1996 | Lindsay Goldberg | Noblesville |
| 1995 | Ryan Metzsker | Noblesville |
| 1994 | Aaron Pelsue | Noblesville |
| 1993 | Noreen Nykios | Noblesville |
| 1992 | Kathleen Otterman | Noblesville |
| 1991 | Tamara Lockwood | Hamilton Heights |
| 1990 | Lisa Harney | Hamilton Southeastern |
| 1989 | Krisiene Demoss | Carmel |
| 1987 | Najwa Loh | Hamilton Southeastern |