Hamilton County Theatre Guild announces auditions for "Drinking Habits," directed by Nancy Lafferty.
Auditions have been Canceled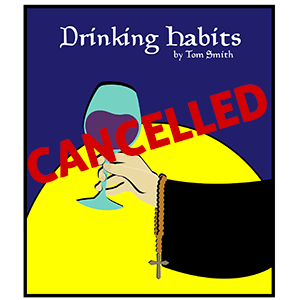 Auditions will be at 7 p.m. Sunday, Dec. 6, and Monday, Dec. 7, at The Belfry Theatre, 10690 Greenfield Ave., Noblesville.
More audition details coming soon. Check back for an audition packet.
Show information:
"Drinking Habits" is a comedy farce and runs Feb. 12-28, 2021 at Noblesville First United Methodist Church, 2051 Monument St., Noblesville.
"Drinking Habits," written by Tom Smith, is a traditional, laugh-out-loud farce filled with accusations, mistaken identities, and romance. Two nuns at the Sisters of Perpetual Sewing have been secretly making wine to keep the convent's doors open, but Paul and Sally, reporters and former fiancees, are hot on their trail. They go undercover as a nun and priest, but their presence, combined with the addition of a new nun, spurs paranoia throughout the convent that spies have been sent from Rome to shut them down. Wine and secrets are spilled as everyone tries to preserve the convent and reconnect with lost loves.
Tickets: $17, adults; $14 ages 12 and younger and 65 and older. Reservations: https://thebelfrytheatre.com or 317-773-1085.
Questions about auditions? Email Nancy Lafferty at lafferty.nancy@yahoo.com