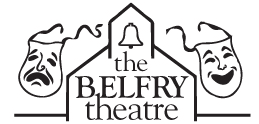 ---
For Reasons of Public Health the entire run of Marvin's Room has been canceled.
Dear Friends of The Belfry Theatre,
Following the COVID-19 (Coronavirus) recommendations issued this week by Indiana Gov. Eric J. Holcomb and the Indiana State Department of Health, the Hamilton County Theatre Guild has decided to cancel The Belfry Theatre's next production, "Marvin's Room."
The play was to open March 20 with eight performances through April 5.
It is with great sadness and disappointment that the production be canceled. However, under the circumstances and given the actions taken by organizations throughout the state and across the nation, The Belfry cannot in good conscience expose the public (and cast, crew, and volunteers) to the possibility of infection nor do we wish the integrity and good name of The Belfry to be compromised.
We know how hard the cast and crew have prepared for this show. Many organizations and individuals are suffering far greater than The Belfry due to cancellations and delays. The public good must outweigh the needs of The Belfry in this instance.
We trust that our patrons will understand and be supportive of this decision.
Ticket holders may contact The Belfry Theatre at 317-773-1085 regarding refunds or ticket holders have the option to donate the purchase amount back to The Belfry Theatre to help defray costs associated with the cancellations.
Sincerely,
Kyle Blowers
President,
The Belfry Theatre Administrative Board of Directors
---
The Belfry Theatre is a friendly, welcoming place where those who wish to express their acting or other creative skills meet those who enjoy and appreciate quality productions of comedies, musicals, and dramas. Our goal is to attract and develop good actors and production personnel and showcase their talents in exceptional productions that will enrich and entertain our prospective audiences.


Connie Murello-Todd Memorial

Like to Shop on Amazon? Support the Mission of The Belfry Theatre

Proud Member of the Encore Association